Welcome to BASS-ONLINE.CO.UK
The online store and catalogue of Budgies Angling Sales & Services. Supplying the latest in camouflage Carp products from Outdoor Identities fantastic range of "Fishouflage" clothing to the very best top quality new and second hand angling equipment. You can buy several of our products here on the site via Paypal and we will be adding this facility to more products soon.




Many thanks for your understanding during our move. Glad to say we are now again "open for normal business"! We have now opened the new retail premisis in Norfolk and hope to see a few of you in person! Call in and check us out if your in the Horning area. Details below. Remember for up to date news check out our Facebook page at https://www.facebook.com/pages/BASS-ONLINE/327382203987699?ref=bookmarks

Or if you prefer using Ebay then check out our shop at - http://stores.ebay.co.uk/bassonline2012

And on the subject of up dating! we will be updating this website with several new products and improving the online ordering system very soon! Meanwhile any queries or problems feel free to contact us.


FRESH MAGGOT, WORM, CASTER AVAILABLE ALL YEAR AROUND.
FROZEN PIKE BAIT AVAILABLE OCTOBER – MARCH
Although primarily a specialist Pike angling equipment shop we also supply general coarse angling equipment meeting the needs of the serious match angler to that of the casual visitor wanting to try for the first time. Advice and help always freely and happily given!
FULLY EQUIPPED FISHING BOAT HIRE (OUTBOARD MOTOR, ELECTRIC MOTOR, FISHFINDER, ROD RESTS, LIFE JACKETS ETC) AVAILABLE OCTOBER- MARCH. NON EQUIPPED (except life jackets) BOATS MARCH - OCTOBER
BASS-ONLINE, School Road, Horning, Norfolk, NR12 8PX
Tel No: 01692 630971
Monday 13th of June until March 15th we will be open on our normal hours-
MONDAY 0800 - 1800TUESDAY 0800 - 1800WEDNESDAY 0800 - 1800THURSDAY 0800 - 1800FRIDAY 0800 - 2000SATURDAY 0800 - 2000SUNDAY 0900 - 1600



CLOSED SEASON OPENING HOURS
The Horning Shop will be closed on Tuesdays and Thursdays. Rest of the week as follows-
MONDAY 0900 - 1700WEDNESDAY 0900 - 1700FRIDAY 0900 - 1800SATURDAY 0900 - 1800SUNDAY 0900 - 1300

NOTE: This will not affect online services.
Bait can be collected out of hours as long as arranged. Boat pick up and return will be determined by first and last light through the season. For more details, advice or any queries either phone or email us at -

bass-online@hotmail.com
If you need to talk to us about your requirements or prefer to place an order by phone rather than online we can be contacted by telephone during 0800 - 1800 on Tel No: 01692 630971
FISHOUFLAGE CLOTHING RANGE PATTERNS
FISHOUFLAGE "CARP" PATTERN
FISHOUFLAGE "PIKE" PATTERN
FISHOUFLAGE "ZANDER" PATTERN
Now these have got to be better than looking like a tree surely!


NEW FOR OCTOBER 2015

AQUAPECHE FISHING BOATS FROM RIGIFLEX
Great boats for freshwater fishing, designed by anglers for anglers! 100% made in France from a colour compound Polyethylene for greater UV resistance and a very high shock resistance. A comfortable, stable and above all SAFE boat for the angler that's very easy to maintain. Great value for money and come with a 2 year guarantee. Available in three sizes. Complete trailer/outboard packages also available.
The 370 and 350 can both be seen and taken out on the water at our Horning shop. These are superb fishing craft and we can recommend them 100% as we use them for our hire service for winter Pike angling (350). As I'm sure many of my catfishing customers will remember Luke Moffat and myself used the now sadly unavailable 4m version for many years on Frances mighty River Saone. These boats lasted us well over 20 years with very minimal maintenance.



MINN KOTA ELECTRIC OUTBOARD MOTORS

ENDURA C2 50lb Thrust 12V 42" Shaft w/ Battery Meter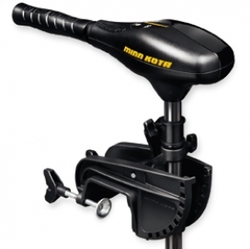 Control: Telescoping Handle
Volts: 12
Max Thrust: 50 lbs.
Shaft Length: 42"
Speed Control: 5 Fwd/3 Rev
Max. Amp Draw: 42
Prop: Power Prop (MKP-2)


ENDURA C2 Standard Features:
Telescoping Handle
Six-inch telescoping handle provides comfortable, easy steering.
Lever-Lock Bracket
10-position bracket features a quick-release lever lock and reinforced composite material that resists flexing, warping and UV damage.
5 Fwd/3 Rev
Provides five forward speed settings& three reverse speed settings to easily choose the speed you need for simple, intuitive control that puts you in command.
Power Prop
The Power Prop delivers extra power to help you push through heavy vegetation to get you where the fish are.
PLUS…
Indestructible Composite Shaft: Pound for pound, our composite shaft is stronger than steel. It flexes on impact and won't break, kink or corrode. That's why we're confident enough to guarantee it for life. If we could guarantee it for longer than a lifetime, we would.

Cool, Quiet, Power: Nothing runs cooler or more quietly than a Minn Kota. Our extra large windings and commutators dissipate heat, resulting in cooler operation, extended battery power, and longer motor life. And our unique bearing system reduces friction to cut fish-spooking noise. So quiet, they'll never hear you coming.

2-Year Warranty: This motor is backed up with Minn Kota's two-year warranty


---